Founded in 1976, Apple Inc is a multi-billion technology company with almost 500 stores around the world. Ranked as the world's most valuable brand more than once, Apple has managed to gift the world technological products from computers and laptops to smartphones and smartwatches. Recently, Apple surprised the world with yet another breakthrough, only this time in the form of its corporate headquarters. Located at 1 Apple Park Way at Cupertino, California, Apple Spaceship opened to employees in April 2017. Although construction was still ongoing, the research and development facilities were occupied by over 2,000 people.
Located only one mile away from the original headquarters at 1 Infinite Loop, Apple Park is more than a technology hub. Steve Jobs spent almost two years on the project, before his death in October 2011. Dreaming of creating a refuge that embraced nature rather than imposes on it, Jobs conceived a campus that will leave a mark for generations to come. Here is a closer look at Apple's futuristic headquarters.
What is Apple Spaceship?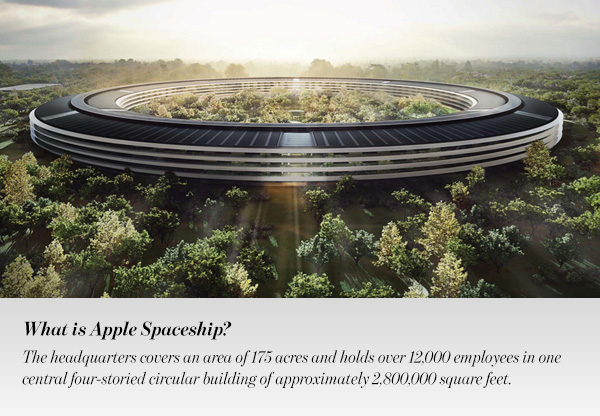 Formally known as Apple Park, Apple Spaceship got its nickname due to its circular design and extreme scale that resembles a flying saucer. The headquarters covers an area of 175 acres and holds over 12,000 employees in one central four-storied circular building of approximately 2,800,000 square feet. Moreover, eighty percent of the site consists of green space and the center courtyard features an artificial pond.
Conceived by former CEO Steve Jobs, Apple Spaceship was designed by Norman Foster of Foster and Partners. The ring-shaped building is a perfect circle one mile in circumference with a diameter of 1,512 feet. With four stories above the ground and three stories underground, the building includes around 83,000 sq ft of space for meetings and breakout spaces. Furthermore, only glass is used for the walls and the inner rim and outer rim on each floor are left open as walkways. The campus is made up of 8 buildings separated by 9 mini-atria.
With a cost of $5 billion, Apple Spaceship was expected to break ground in 2013 and open in 2015. However, delays caused the project to begin in 2014. The land cost alone is estimated at $160 million and the initial budget was estimated at less than $3 billion. To be a model of a green and an energy efficient building, Apple Park runs mainly on renewable energy. Solar panels installed on the roof can generate 17 megawatts of power, sufficient to power 75% during peak daytime. This makes the campus one of the biggest solar roofs in the world. Moreover, powered by biofuel natural gas, Bloom Energy Server fuel cells generate 4 additional megawatts. With a design that allows air to flow freely in and out of the building, Apple Spaceship does not require the use of HVAC systems during nine months of the year.
The Steve Jobs Theater
Known as the Steve Jobs Theater, the auditorium is located atop a hill at the campus. The underground facility with 1,000 seats will be the location of Apple product launches and press meets. With 350 parking spaces, the auditorium also features a large above-ground cylinder-shaped lobby with stairs down to the auditorium. Made out of glass walls, the lobby has no support columns, which give it a 360-degree view of the entire campus. Furthermore, the theatre includes a 42-foot high glass elevator that rotates 171 degrees from the bottom to upper lobby level. It is the tallest free-standing glass elevator in the world. The Steve Jobs Theater welcomed its first press event on September 12, 2017. The iPhone 8, iPhone 8 Plus, iPhone X, Apple Watch Series 3, and Apple TV 4K were announced at the event. 
Facilities
Cafes
There's more to Apple Spaceship than offices where technology is challenged. The campus is also home to seven cafes. The largest of which is a three-level cafe that can hold up to 3,000 people. The mezzanine space alone, measuring an area of 20,000 square feet, can hold 600 people and 1,750 seats on terraces outside, and serve 15,000 lunches a day. Moreover, the cafe features sports tables and benches resembling those in Apple Stores. With doors that are 92 ft tall, the biggest in the world, the cafe also extends out to a landscaped area which offers al fresco dining.
Wellness Center
Of course, Apple Spaceship would not be complete without a 100,000 square foot fitness center located in the northwest of the campus. Serving up to 20,000 employees, it includes gym equipment, changing rooms, showers, laundry services, and rooms for group sessions.
Research and Development
Made up of two large 300,000 square feet buildings, the Apple Spaceship research and development facilities are located on the southern edge of the campus. The top floor of both buildings is home to the department of industrial design and human interface.
Transportation
Dedicated to providing employees with a variety of transportation methods, Apple Park has it all. An underground bus station is available, leading to the main campus via two white staircases. Furthermore, the campus provides underground parking and two large parking structures accommodating approximately 14,200 employees. The underground parking includes 2,000 parking spaces and an additional 2,000 bicycle parking spaces. In addition, the headquarters offers 1,000 bikes on the campus for employees.
Apple Park Visitor Center
Located at 10600 N Tantau Ave Cupertino, the Apple Park Visitor Center is a two-story 20,135 sq ft structure with four main areas. The first area is an Apple Store that sells merchandise that is not sold at regular stores such as T-shirts, hats, tote bags, and postcards. The other areas are a 2,386 sq ft cafe, an exhibition space where visitors can use Augmented Reality iPads to explore the campus, and a roof terrace. With an estimated cost of $80 million, the center opened to the public on November 17, 2017. It also includes an underground parking with 700 parking spaces estimated at $26 million. 
Landscaping
Former CEO Steve Jobs wanted the new headquarters to be more than a workspace. 80% of the campus will be made up of green space once construction is complete, in order to incorporate nature. Apricot, olive, and apple orchards will fill the central courtyard. Furthermore, a herb garden will grow near the cafe. Currently, there are 9,000 trees on campus, with 309 varieties of indigenous species. With sustainability on their mind, Apple uses recycled water for irrigation in Apple Park.